Improving your Posture Through Proper Workplace Ergonomics
Improving your Posture Through Proper Workplace Ergonomics
Written By Merivale Chiropractic and Massage Clinic on July 31, 2020
---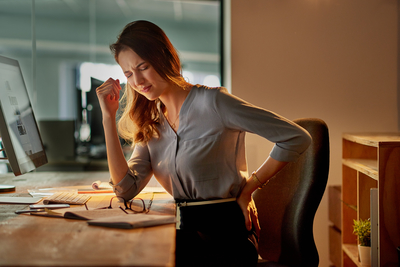 Experiencing pain or stiffness while going about your workday? If so, then it may be time to evaluate your workplace or home workplace ergonomics because you could have a poor work posture.
It does not matter if you are spending eight hours driving a truck or sitting at a desk or spending those hours on your feet. If you are not practicing proper workplace ergonomics, you can put yourself in harm's way. In fact reports state that work-related Musculoskeletal disorders account for 43% of all work-related injuries in Canada and 46% of all lost-time days.
Workplace Ergonomics Protect Your Musculoskeletal System
Implementing workplace ergonomics into your routine is much easier than you may think. Depending on the nature of your work, there are several ways to help improve your work posture and help protect your musculoskeletal system.
Working in a Sedentary Position
Sedentary positions include jobs that require you to sit for long hours at a time. These types of jobs can include work-from-home positions, desk jobs, or transportation jobs that require you to sit and drive for hours at a time.
Help protect your musculoskeletal system by:
Taking frequent breaks: this allows you time to stretch your legs and get your blood flowing again.
Take rest breaks for your eyes: Get your eyes off the road by pulling into a rest stop and allow yourself to look at something besides the road. The same applies to desk jobs by giving your eyes a break from the screen.
Set your space up ergonomically: Include proper seating in your vehicle to protect your lumbar. For desk jobs, make sure you are positioning yourself away from the screen and have an adjustable chair that suits your posture best.
Working in an Active Position
Active positions include jobs that have you up on your feet for most of the day and often involve heavy lifting, stretching, and other mobility requirements. Workplace ergonomics apply here as well to help protect your work posture and body from potential injuries, including strains, sprains, inflammation, and more.
Try implementing these practices:
Practice safe lifting techniques when bending/stooping/lifting objects
Maintain proper posture while standing
Take time to stretch your muscles to keep the blood flowing adequately and muscles warm
Improve Your Work Posture at Merivale Chiropractic and Massage in Ottawa, Ontario
However, if you are still experiencing pain or stiffness, you may need treatment to help with improving posture-related aches and pains. The team at Merivale Chiropractic and Massage Clinic can help through several measures, including chiropractic adjustments and massage therapy.
Ready to schedule your appointment? Then call our Ottawa, Ontario office at (613) 226-8142. New patients (only) may also book their appointment online.

Posted In: Chiropractic Massage Therapy Workplace Ergonomics