Put the Spring Back in Your Step with Orthotics
Put the Spring Back in Your Step with Orthotics
Written By Merivale Chiropractic and Massage Clinic on March 22, 2021
---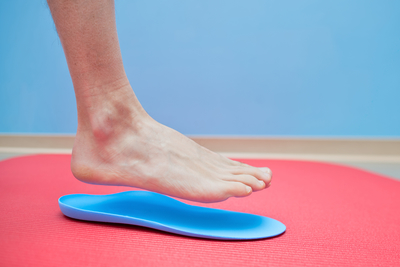 Your foot has 26 bones, 30 joints, and more than 100 tendons, ligaments, and muscles. They all work together to give your body balance and support. If something is out of alignment, it can cause foot and back pain. Having the proper support in your shoe for your activities and foot type will help eliminate any pain.
Orthotics are shoe inserts that are custom-made for your body. A chiropractor will prescribe them to you to treat leg, foot, or back problems. Orthotics have countless benefits and working with a chiropractor will get you on the road to recovery.
How Do I Know If I Need Orthotics?
If you are experiencing discomfort and pain in your feet and legs, you should visit a chiropractor to receive a treatment plan that includes orthotics. Some signs you need orthotics are:
Standing more than five hours a day, which can lead to plantar fasciitis
Wearing worn-out shoes
Sustaining an injury in one of your lower limbs
Extreme pain in heel or foot
Orthotics can help with chronic pain or maximize an athlete's performance during sports.
What Conditions Do Orthotics Help With?
In addition to relieving pain in your feet and legs, orthotics can help with a variety of other conditions:
Bunions: The painful bumps that grow at the bottom of your big toe can also cause foot deformities. Having an orthotic custom made with a wide toe box can ease any pressure on the big toe.
Arthritis: Osteoarthritis and rheumatoid arthritis can cause pain and discomfort in your feet that orthotics can correct.
Bursitis: When the fluid-filled sacs in your heels and toes become inflamed, it can cause bursitis discomfort. An orthotic with arch and heel support can alleviate the pain.
Heel Spurs: When excess bone grows on the bottom or back of your heel, it can cause your foot to become inflamed. Orthotics will support your foot and help ease the pain.
Flat Feet: Having flat feet can cause ankle, foot, and back pain. Custom-made orthotics can properly position your feet and provide support.
Visit a Chiropractor Today for Custom Orthotics
One of our highly trained chiropractors will evaluate your symptoms, creating a treatment plan that includes custom orthotics. Merivale Chiropractic and Massage Clinic has set up patients with custom orthotics for over 25 years. We comprehensively diagnose foot issues, ensuring you receive the proper care.
Contact us today for an appointment.

Posted In: Chiropractic Orthotics Peripheral Neuropathy