Work from Home Workplace Ergonomics Through Telemedicine
Work from Home Workplace Ergonomics Through Telemedicine
Written By Merivale Chiropractic and Massage Clinic on December 21, 2020
---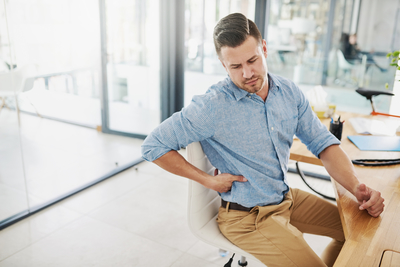 The COVID-19 pandemic has most of us staying and working at home most of the time. Adapting to the new normal also means creating safe workspaces that help us stay healthy while being productive.
Musculoskeletal disorders (MSDs) such as arthritis, carpal tunnel syndrome, and back injuries account for more than 70 million doctor's consultations annually in North America. By following proper workplace ergonomic principles, we can decrease risk of work-related injuries and MSDs.
What is Workplace Ergonomics?
Proper workplace ergonomics aims to reduce physical stress and prevent disorders and injuries associated with forceful and repetitive movement, lousy posture, and the overuse of muscles.
In your remote or home office, follow these simple and practical workplace ergonomic principles that can improve your work efficiency while maintaining overall health and well-being.
Don't make your couch a work area. Working long hours on your couch can bring discomfort and numbness to your back, neck, and legs.
Set up your home office in a space that has proper ventilation and adequate lighting.
Dehydration and hunger cause headaches, so don't miss your meals and keep yourself hydrated.
Position your computer monitor within your eye level so that you won't slouch or hunch your back.
Use an office chair with an armrest and back support to reduce neck, arm, and back stress.
Ensure that your feet lay flat on the floor and your hips are slightly higher than your knees to reduce lumbar spine stress.
Keep items you frequently use, such as office supplies, within an arm's reach to avoid straining your neck and shoulders, especially when you're in front of the computer.
Rest your eyes, and take regular breaks to stretch and relax your mind and body.
Avoid straining your fingers and hands by typing non-stop on your smartphone.
Ergonomic Consultations Through Telemedicine
You can learn more and apply workplace ergonomic principles through Telemedicine at Merivale Chiropractic and Massage Clinic.
Our highly-qualified and experienced chiropractic doctors will sit down with you and provide you with tips on best work from home workplace ergonomic practices.
Contact Merivale Chiropractic and Massage Clinic at (613) 226-8142 for a Telemedicine consultation or schedule an appointment.

Posted In: Chiropractic Workplace Ergonomics