5-Point Proper Sitting Posture Checklist: Your Guide to Proper Computer Posture
5-Point Proper Sitting Posture Checklist: Your Guide to Proper Computer Posture
Written By Merivale Chiropractic and Massage Clinic on August 31, 2020
---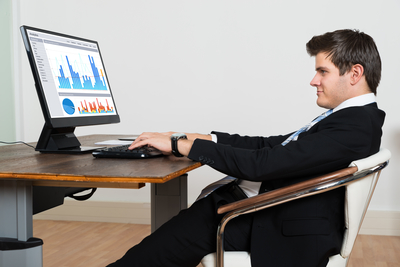 Sitting at a computer does not seem like a labour-intensive job – that is until you have to spend eight-plus hours a day doing just that. If you don't have a proper sitting posture, then you may start to experience new, unexplained aches and pains in not only your head and neck but your shoulders and back as well.
Your 5-Point Proper Sitting Posture Check List
Without the right computer ergonomics, it comes to no surprise that most work-related injuries are related to musculoskeletal disorders including:
Tension neck syndrome
Carpal tunnel syndrome
Tendonitis
The good news is that a few simple changes to your daily setup could help alleviate most of your work-related aches and pains. That said, here is our 5-point proper sitting posture checklist to help you maintain proper posture throughout your long workday.
1. Have an Adjustable Chair
One of the primary reasons behind your work-related pain is likely due to having a chair that doesn't adjust to your personal needs. You want to have an adjustable office chair that allows you to customize not only the height of the chair, but the arms, and lumbar support to ensure that your hips, back, shoulders and head are correctly aligned.
2. Set Up Your Monitor Properly
Your monitor should ideally be an arm's length away from your face. The top of your screen should be slightly below eye level and sit directly behind your keyboard to ensure proper head and neck alignment.
3. Utilize Adequate Lighting
Lighting should always be located behind your computer monitor. This helps to avoid any unnecessary glare on your screen and reduce the odds of you squinting to read what is on the monitor.
4. Monitor Your Body Posture
Your body's position plays an essential role in proper computer posture. Ideally, your feet need to rest flat on the ground, with your knees at a 90-degree angle. Your elbows should then be slightly lower than your wrists, which should rest level with your keyboard.
5. Reduce Both Physical and Mental Stress
While practicing proper sitting posture will help to take a lot of physical stress off your body, you may need to look outside your office to help reduce both your physical and mental stress. Seeking massage therapy is a great way to help your body and mind relax after a stressful week.
Computer Ergonomics Guidelines from Merivale Chiropractic and Massage Clinic in Ottawa, Ontario
If you're looking for tips on proper computer posture, then the team at Merivale Chiropractic and Massage Clinic is here to help.
If you'd like to discuss proper computer ergonomics with our team of professionals, then call our Ottawa, Ontario office at (613) 226-8142. New patients (only) may also book their appointment online.

Posted In: Chiropractic Workplace Ergonomics Proper Sitting Posture